In Memoriam Prof. Pramod Subramanyan
In-Memoriam

Prof. Pramod Subramanyan, 1984 - 2020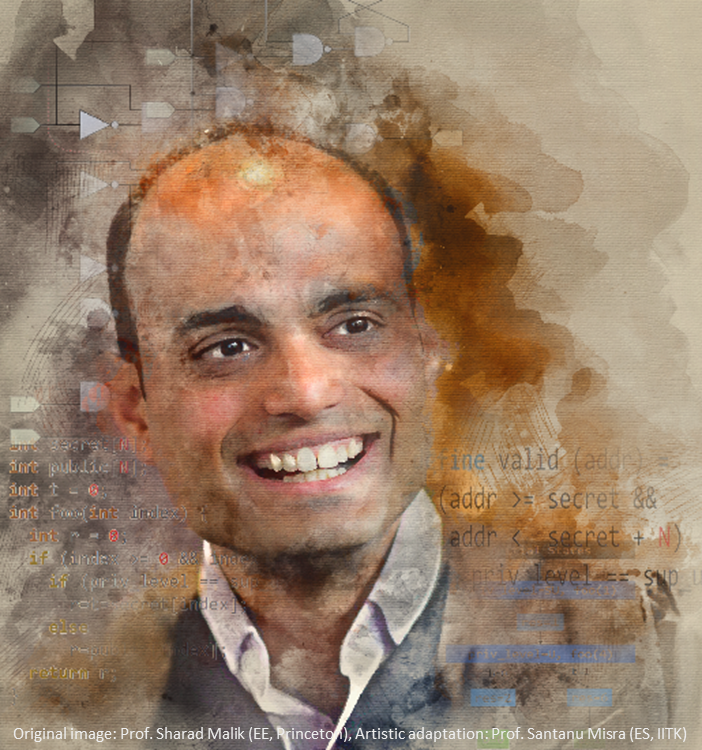 Prof. Pramod Subramanyan was born on June 8th, 1984 in the city of Palakkad in Kerala. After completing his bachelor's studies in Electronics and Communication Engineering from the R. V. College of Engineering, Bengaluru, he completed his master's studies from the Indian Institute of Science, Bengaluru with a thesis on Efficient Redundant Execution in Chip Multiprocessors. Prof. Subramanyan then went on to pursue doctoral studies from Princeton University where his dissertation on Deriving Abstractions to Address Hardware Platform Security Challenges was awarded not only the Bede Liu Award for the Best Doctoral Thesis at the Department of Electrical Engineering, Princeton University, but also the 2018 ACM SIGDA Outstanding Ph.D. Dissertation Award in Electronic Design Automation.
Prof. Subramanyan and his works were no strangers to excellence, and received multiple awards including the 2017 award for Best Paper at the ACM Conference on Computer and Communications Security, the 2015 award for Best Student Paper at the IEEE International Symposium on Hardware-Oriented Security and Trust, and the Wu Prize for Excellence from the School of Engineering and Applied Science, Princeton University. His advisors and colleagues wax eloquent about his sheer technical brilliance and ability to identify the most impactful of applications while at the same time, making the most fundamental of advances, in formal methods and systems security.
Prof. Subramanyan is also fondly remembered as a caring mentor who imparted to students not only a wealth of knowledge, but also inspiration and a spirit of inquiry. He is remembered as a doting father, a caring and supportive husband, a dutiful son and brother, and an exemplary human being.
The untimely demise of this wonderful human being and researcher par excellence is a setback to individuals and organizations alike. Organizations and efforts that were fortunate to have received his contributions will miss his mastery over subject matter. The academia will miss a future leader and dominant expert. Those who worked with him and learnt from him will miss a helpful colleague, a caring mentor and a valuable adviser. We pray for the departed soul and hope that the family, friends and colleagues of Prof. Subramanyan, find strength and courage in face of this irreparable loss.
Fond memories shared by friends and family members of Pramod
If you would like to contribute to this page by writing a testimonial about Pramod or in some other way, please send an email to purushot@cse.iitk.ac.in The following collages were compiled using photographs generously shared by family members, friends, colleagues, and students of Pramod.
Collage 1: Clockwise from the top left, spiralling in: Pramod and his batchmates from IISc attending a workshop, Pramod being awarded the Bede Liu Award for Best Doctoral Thesis (EE, Princeton University), Pramod all smiles on his graduation day, Pramod delivering a talk at the 3rd Workshop on Dependable and Secure Nanocomputing (WDSN 2009), Pramod and Preeti after Pramod's graduation, Pramod and his batchmates from IISc enjoying a nice dinner, Pramod and his students at IIT Kanpur enjoying a dinner at the Campus Restaurant, Pramod displaying his artistic side (see collage 3 below for the full image).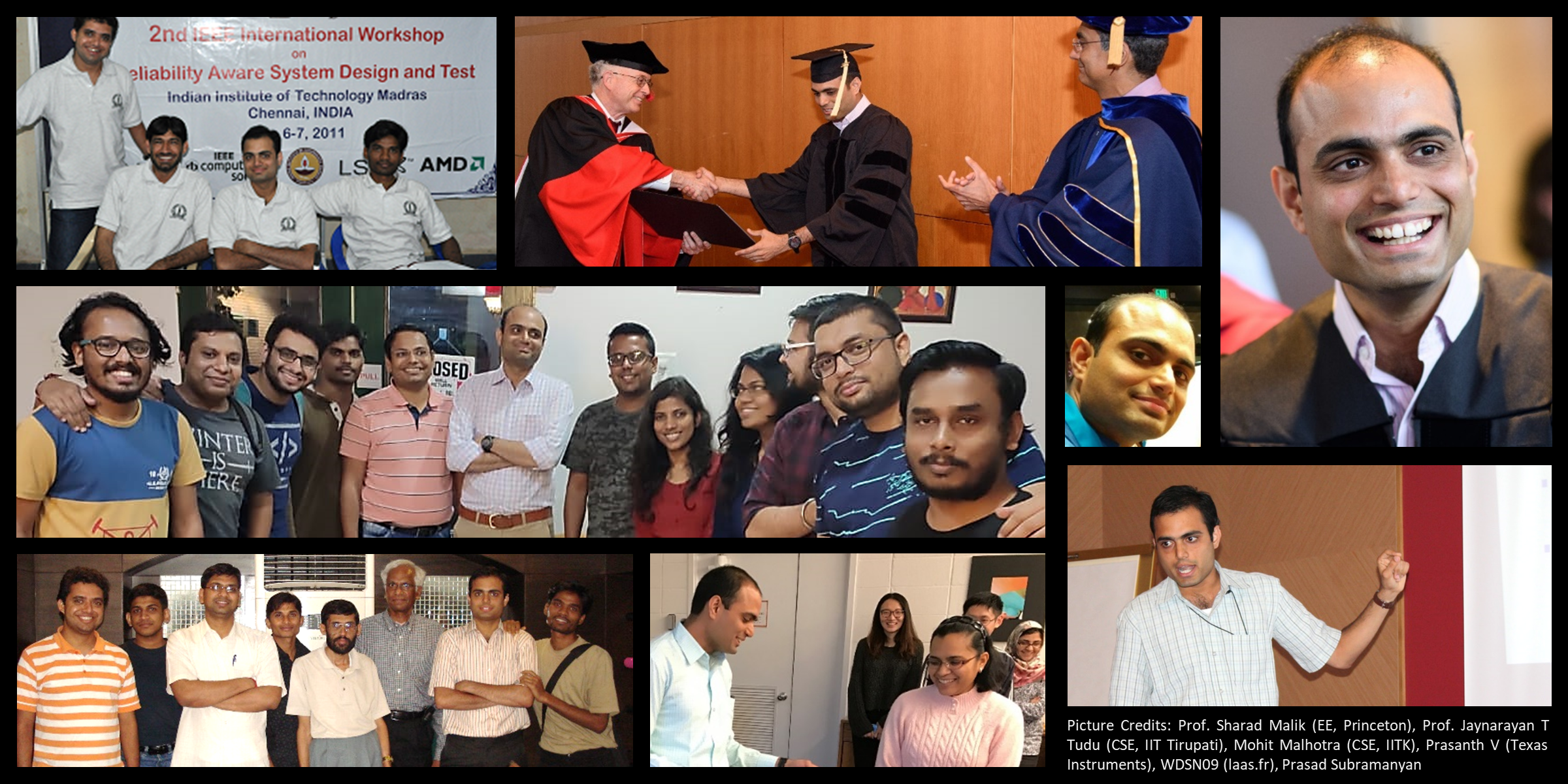 Collage 2: Clockwise from the bottom left, spiralling in: Pramod and his son Avyukt enjoying playtime, Pramod with his research buddies at a group dinner party, Pramod and his parents on a trip on a very sunny day, Pramod being happy and a bit shy to show his mother his new office space, a super grainy, old and poignant picture of Pramod and his brother as little kids, Pramod being felicitated by Prof. Sandeep Shukla after delivering a keynote at CSAW 2018, Pramod all smiles on his graduation day (see collage 1 above for the full image).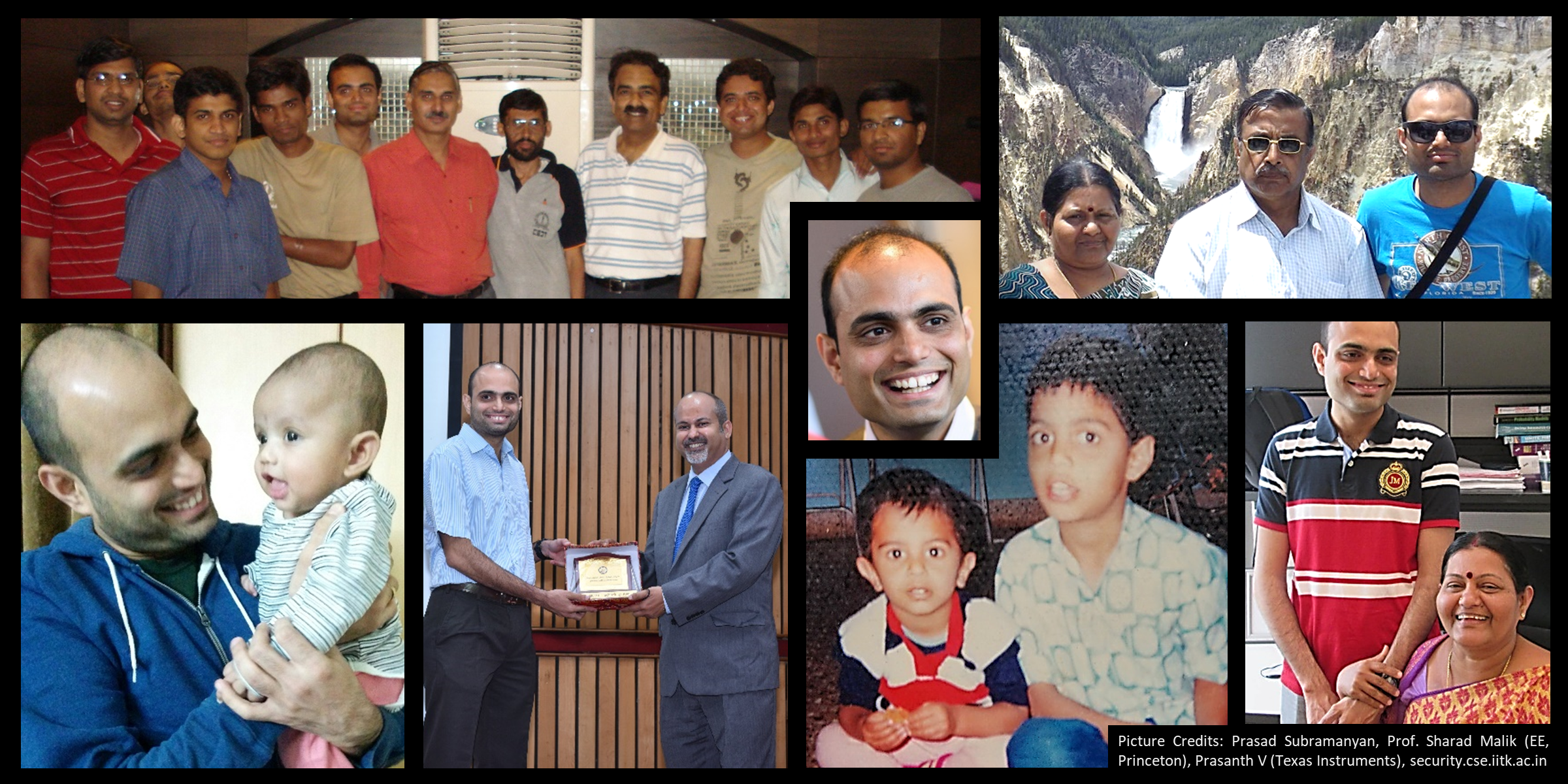 Collage 3: Clockwise from the bottom left, spiralling in: Pramod displaying his artistic side, Pramod and Avyukt (the latter seems a bit distracted by his latest toy lying below on the ground), Pramod at his new office in the Rajeev Motwani building, CSE, IIT Kanpur, Pramod looking sharp in formal wear, Pramod in front of his office in the Rajeev Motwani building, Pramod and friends enjoying a day at the beach, Pramod and Avyukt enjoying playtime (see collage 2 above for the full image).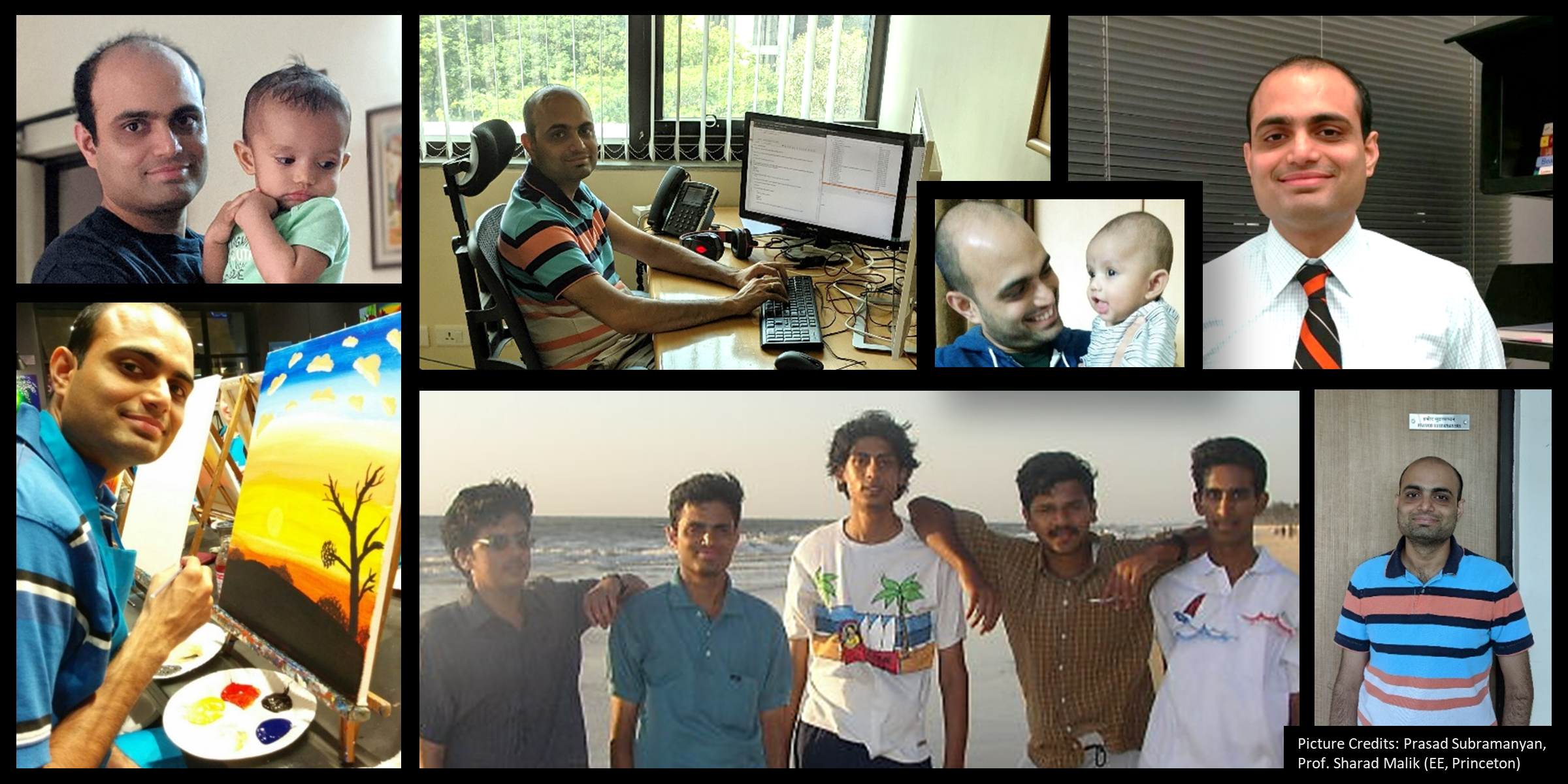 YouTube video: Pramod and his friends enjoying a boat party while on a trip to coastal Karnataka. Can you guess which one is Pramod? (Hint: look for the brightest smile). Video courtesy Puneet Acharya.
Testimonials
Prof. Nitin Saxena (faculty member at CSE, IIT Kanpur) wrote
Pramod was a thoughtful, sharp and dynamic person; always passionate about his work. In his short-stay here at CSE@IITK he inspired a number of students and faculty with his focus and achievements. He was always friendly & helpful whenever I contacted him; I wish he had chosen to ask for help from us too in time.
Prof. Satyadev Nandakumar (faculty member at CSE, IIT Kanpur) wrote
I have found Pramod to be an intellectually deep and caring person. In our short collaboration, he was very open and friendly. I am sorry to hear about this sudden loss.
Prof. Arnab Bhattacharya (faculty member at CSE, IIT Kanpur) wrote
In my little interactions with him in the department, I always thought of Pramod as a calm and balanced person. Outside the department, I had the chance to meet him and his family on only a couple of occasions. He was generally jolly and smiling. I found him an easy person to talk to. That he was having such a feeling inside him is a big shock for me.
Prof. Ashutosh Modi (faculty member at CSE, IIT Kanpur) wrote
I have recently joined CSE, IITK and had contacted Pramod before joining, regarding some information. He was quite helpful. I had few interactions with him once I joined. I always found him to be a very calm and composed person. I am deeply shocked with the sudden loss.
Prof. Raghunath Tewari (faculty member at CSE, IIT Kanpur) wrote
Pramod and I shared the same floor in our office building. As a result, we would often meet and occasionally have a casual chat. He always seemed like a calm, composed and balanced personality. I still cannot believe that I will never again be encountering him in the 5th floor corridor of RM building. His departure is a huge loss for Indian academia.
Prof. Subhajit Roy (faculty member at CSE, IIT Kanpur) wrote
I have always found Pramod to be extremely calm and composed. I have never seen him getting excited, agitated or angry. I will never be able to forget his smiling face and cheerful voice. A brilliant researcher and an excellent teacher, this is a huge loss to the department, the institute and the world.
Prof. Sandeep Shukla (faculty member at CSE, IIT Kanpur) wrote
He was an absolutely brilliant mind -- sharp, polished, intellectually gifted -- I still remember hosting him for his interview in the department, having numerous email exchanges, skype calls -- then his arrival -- and he becoming my neighbor in the office. We walked into each other's office so many times, discussed problems, discussed students, logistics -- proposals. He took over the course I taught earlier and taught it so well -- he was flocked with students wanting to work with him. He was smiling, laughing -- never imagined one day I will be standing questioning myself what could we have done to save him. I remember letters from his advisers -- such brilliant letters -- and now both his MS and PhD advisers called -- and they are deeply mourning the loss of their brilliant student -- and we are mourning our brilliant colleague in whom we reposed so much faith for the future of cyber security research in the department - and for our cyber security Hub. My heart also aches for his wife -- Dr. Preeti Malakar -- our colleague -- and his little son -- who he loved so much -- seen him playing with him outside his VFA quarters so many times -- smiling and laughing -- hard to forget his smiling face -- hard to reason with what happened.
Prof. Debadatta Mishra (faculty member at CSE, IIT Kanpur) wrote
I always considered Pramod to be a shining star in our department who was very sharp, calm, clear-headed and carried a smile at all times. He was a very well accomplished researcher and I am very certain that he could have set new benchmarks as a researcher. A great loss---not only the department but also to the whole community. Pramod, be at peace wherever you are.
Prof. Biswabandan Panda (faculty member at CSE, IIT Kanpur) wrote
The first interaction that I had with Pramod was when he was at AMD (October 16, 2011, to be precise). I was doing my masters at IITM and looking for internship opportunities at AMD. Later, we had exchanged emails on various issues related to micro-architecture modeling.
At CSE@IITK, he was one of those colleagues who was witty, focused, highly passionate, and excited about his research and teaching. I remember, in one of our discussions during late 2018, he mentioned and I quote "Biswa: I am really excited about verifying micro-architectural designs and attacks formally". Later in 2019, we were at NXP. Someone asked me, can you formally prove your idea in terms of micro-architecture security guarantees? I just pointed them to Pramod, saying, "He should be your goto man." Just a few days back, he was excited about his WOOT 2020 work: the irreplaceable loss to CSE@IITK and Indian academia.
Beyond CSE@IITK: A cheerful guy with a good sense of humor (still remember all the jokes on the way from Bangalore to IITK in January 2020, Diwali dinner, and many ..). A loving father to Abhyukt. I am running out of words.
Cannot reason about why and how. May his soul rest in peace. We will miss you!
Prof. Swarnendu Biswas (faculty member at CSE, IIT Kanpur) wrote
I have been fortunate to work closely with Pramod on a few things during our short overlapping tenure at IITK. I have always admired his technical acumen. Beyond work, we were good family friends. I am sad and disappointed I could not see through his problems and could not help him during his time of need.
Prof. Swaprava Nath (faculty member at CSE, IIT Kanpur) wrote
Pramod was an amazing friend, colleague, and neighbor. His brilliance on the topics and witty yet insightful comments could easily make any discussion a pleasure. I still cannot believe that we'll not get such an opportunity to chat again. My condolences are with Preeti and little Avyukt. I hope Avyukt gets a real stress-free life and keeps Pramod surviving through him.
Prof. Mainak Chaudhuri (faculty member at CSE, IIT Kanpur) wrote
Calm, composed, very sharp, with an always smiling face -- that's Pramod. He sometimes used to discuss with me some microarchitecture aspects cross-cutting his research on verifying security of systems. Every such session used to be very refreshing and insightful. He had a very logical and clear mind. Pramod was a very pleasant person to be around with. The untimely departure of such a great mind is a huge loss to the academic community. May God give his family the strength to cope with this unsurmountable loss.
Prof. Piyush Rai (faculty member, CSE at IIT Kanpur) wrote
You were a pure and gentle soul, and a sharp, sorted, clear, and equanimous mind. The meaning of Avyukt, the name of your little son, sort of reflected in your inner-self as well. It pains to imagine the cruel circumstances that would have led a person like you to succumb and resort to such an extreme step. I still wish the world could have more people with the admirable qualities you had. A poor world got even poorer with your tragic and untimely departure! It is deeply unfortunate that we couldn't have you among us for long, but I am sure you made a positive impact, both professionally and personally, on the many lives that came in touch with you, even if fleetingly. The gratitude will be felt forever and you will be dearly missed by them all. May your family find the strength and support to endure and overcome this tragic loss.
Prof. Amey Karkare (faculty member at CSE, IIT Kanpur) wrote
I will always remember Pramod as a calm and balanced person with a smile on his face. He was a brilliant academician and would have brought laurels to CSE IITK. It is a big loss to our department as well as to the entire CS community.
Prof. Manindra Agrawal (faculty member at CSE, IIT Kanpur) wrote
Pramod, a brilliant academician, always appeared calm and self-assured. Although I did not have much interaction with him due to my engagements elsewhere, I was looking forward to working with him in establishing the C3iHub. It is a great loss to the cyber security research in the country. I pray for strength to his family to cope with this unexpected tragedy.
Prof. Surender Baswana (faculty member at CSE, IIT Kanpur) wrote
I recall the first time when I met Pramod during his visit to CSE IITK as a faculty candidate. In his talk, he emphatically addressed all aspects of a research problem. Moreover, he presented his research results in such a nice and simple manner that even an undergraduate student could follow them and appreciate them. His outstanding research accomplishments are inspirational for students as well as faculty members. I am pretty sure he would have made indelible contributions to research and teaching in the coming years. It is indeed very sad to see an untimely end of an outstanding researcher and a gentle human being. May almighty give courage to his family members to face this terrible loss.
Prof. Rajat Mittal (faculty member at CSE, IIT Kanpur) wrote
I remember Pramod as a brilliant, calm and confident colleague who was ready to help whenever needed. In a short time here, he made a big impact on all of us. The loss to the department and institute is impossible to measure. We hope that the family gets the strength to overcome this challenge.
Shubham Sahai (Ph.D. student at CSE, IIT Kanpur advised by Pramod) wrote
Coping up with the loss of a loved one is difficult — I always knew that, theoretically. But, the untimely demise of my supervisor, Prof. Pramod Subramanyan, has induced pain at level, I could have never imagined. None of us saw that coming. It's unsettling and the fact that he is no more with us is devastating. I just wish that all of this is a bad dream, and things will be back to normal once I wake up. But, unfortunately, this isn't, and coming in terms with this new reality seems unimaginable.
Pramod was a gem of a person from every perspective I knew him from. An amazing teacher, a stellar researcher, a great mentor, a loving father, and a kind hearted and caring human being. Academically, we all are aware of his brilliance — an insightful researcher, with a curious mind. Every discussion with him has always been very enlightening, and I have always been amazed by his ability of understanding the intricacies of everything we ever discussed, even ones remotely unrelated to his area. It never mattered what you wanted to talk about, his doors were always open.
His passion towards teaching was unbeatable. During semesters, he used to put long hours designing every lecture, thinking from the student's perspective. He was always curious about how to make things easier to understand, so that the students could pick up easily. One could certainly see that teaching was not a job for him, it was his passion. His philosophy was — learning should be the key objective rather than grades, and we can see his courses were designed around this philosophy.
He was an amazing mentor and an approachable supervisor who did care about each one of us. I always saw him as a balanced person, having a very refreshing perspective for anything and everything we discussed. He brought the group together and made every effort which ensured the growth of each and everyone of us — be it open discussion, group updates or practice talks. He was certainly redefining the culture we had in the department, with new ideas and ways to bond the group together and foster collaboration. He had a keen eye to identify the shortcomings of his students, and always pushed the person in the right direction to fix things — all the while without acknowledging those shortcomings. We all were certainly very lucky to have him as our supervisor — until this tragic day.
I just wish there is a way to take things back to normal — a normal where he is still there with us smiling with his infectious smile. I just wish all this is just a bad dream. I just wish we all never have to adjust with this new normal. Pramod you created a void in our hearts, which no one could fill. I just wish something would have distracted you at that moment — to re-evaluate your decision. We all were there with you and for you. I just wish I can still text you and get a reply. I really miss you a lot!
And I never ever thought in my worst nightmare that I would have to say this — May your soul rest in peace and you be the happiest one wherever you are. You will always be alive in our hearts and memories. You are one of the best person I knew. And I will always miss you!
Sumit Lahiri (Ph.D. student at CSE, IIT Kanpur advised by Pramod) wrote
Pramod Sir was a brilliant researcher and an exceptionally good mentor. He had an enormous impact on me since from him I learned the true nature of investigating a problem deeply and thinking in multiple directions to solve a given research task. He was extremely dedicated to his work and always maintained a calm and optimistic composure. I joined as a Ph.D. student under him in the last semester and since then he had always helped me in making the right moves in my research path. He was always available for discussing any problems I faced during my research. He always gave me the opportunity to learn and explore new techniques and ways that could be beneficial for my research. He always took out time to explain to me the subtleties involved in taking a particular approach while solving a problem. His untimely demise has left me in utter shock. I sincerely wish I could spend more time under his guidance. May his soul rest in peace.
Mohit Malhotra (M.Tech. student at CSE, IIT Kanpur advised by Pramod) wrote
Prof. Pramod Subramanyan was my thesis advisor. I joined his group in May, 2019 and have been working closely with him since then. Before that, I attended his course on Computer Systems Security and was left surprised by his dedication towards his work. He was always thoughtful about the society as a whole and used to repeatedly tell why we should be working to build secure applications as to protect general audience who is not aware of technical nuances of the products that they use.
When I joined him for my thesis, I had no idea what to do, where to start, what to expect. He guided me at every step from encouraging me to study different topics to choosing a topic for thesis and guiding me for above an year to work on that. He never made me feel like I was a student, he treated me with so much love and respect that I felt like a colleague.
When we started working, he had no previous experience in the area of my work. He told me very confidently that we can learn it together. That was his thirst for knowledge. He was always happy to jump out of his comfort zone and learn something new. During our weekly meetings, he would devote hours in reading our code, understanding it line by line, plan for things that we should focus on next, joke on random stuff, etc.
He always wanted his students to do great in life. He kept motivating us to aim for big things and not to settle for less. I hope, we all will be able to do something that he will be proud of.
We shall miss his happy face forever.
Gourav Takhar (Ph.D. student at CSE, IIT Kanpur advised by Pramod) wrote
I worked with prof. Pramod Subramanyan, as a Ph.D. student, for more than a year. He was a wonderful advisor. He always had a positive aura (always with a smile) around him. When, we talked, whether be it academic or personal, it brought great joy. If I got stuck with some problem, he made it seem so easy and led you to the solution with discussion rather than providing answers directly, and always ready to try new ideas and work on them. I remember whenever I got a chance to out for a conference or some other reason, he always told us to enjoy that place and visit around if we get the chance. He never put pressure on finishing any assignment but, still, he could motivate and help in finishing it on time. Prof. Pramod Subramanyan was both a fantastic mentor as well as a respectable human being.
May his soul rest in peace.
Tarun Solanki (M.S. student at CSE, IIT Kanpur advised by Pramod) wrote
Sometimes it can be difficult to find the right words to say for someone who meant so much to you. I could not have asked for a better mentor. He was a wonderful teacher, boss, leader, and friend. He groomed us to be sound professionals and made working an interesting and memorable experience. He consistently maintained his hardworking and responsible personality while keeping a smile on his face and those of the people around him. Not only was he fantastic at his job, but he also proved to be a caring and dependable person. I was so fortunate to get to work with someone who inspired me every day. I appreciate and treasure everything he has taught me. I'll forever be grateful for his guidance and kindness.
Lavlesh Mishra (M.Tech. student at CSE, IIT Kanpur advised by Pramod) wrote
Prof. Pramod Subramanyan, was one of the best person I have ever worked with. He was the humblest person I know. I have had the pleasure of being his student and doing my thesis under his supervision. I would say that he was a person with the highest of human values and that's what makes him the greatest teacher. I remember the so caring nature of his and the way he used to compliment me during our meetings and conversations, I remember his emails starting with line "Hi Lavlesh, you have done a good job so far!" were the most influencing and encouraging things for me. I am praying to god to give him the eternal rest and his family the strength to bear the great pain. You're in my prayers.
Supriya Suresh (M.Tech. student at CSE, IIT Kanpur advised by Pramod) wrote
Sometimes you meet people who are present only for a few chapters of your life but still manage to leave an everlasting impact that becomes quite significant in the course of your life. He was one of those people to me - always motivating me to do well, encouraging me at every step of the way, and making me believe in myself a little more each day. He expected greatness from his students and believed in their capabilities perhaps more than they did themselves. He was an excellent mentor and more importantly, a wonderful person. I consider myself fortunate to have known him and to have worked under him for two years. I will always cherish the memories I have with him - the long conversations we had about work and life, his witty comments about everything, catching glimpses of him running down the stairs of RM building and waving at him, his adorable awkwardness at being the centre of attention during our team dinner, him trying to catch his little son who was running around him in circles, his long detailed emails, his radiant smile and his powerful pieces of advice. I hope wherever he is now, he is at peace. We all will really miss him.
Suraj Gour (M.Tech. student at CSE, IIT Kanpur advised by Pramod) wrote
Pramod Sir was an Idol to me. I was working with him for past few months. Two days before the unfortunate event, he signed my Supervisor Appointment Form. I was so excited and I was telling everybody about that. He always told me to take baby steps on the work, see if it works or not, try to implement on smaller scale. I'll never forget his advice and the motivation that he gave me.
Neelu Shivprakash Kalani (M.S. student at CSE, IIT Kanpur) wrote
My experience with Pramod Sir is from when I was taking the Computer Systems Security course. One day in class, I asked him a doubt. I don't remember what I had asked. What I remember is how patiently and knowledgeably he had answered. Then he had asked me if I had understood it. And I hadn't. So I nodded my head no. The memorable part comes next, he had smiled almost laughingly, not because I hadn't understood it, but just so. People who knew him or had any experience with him know that this was one of his undeniably fashionable qualities. He used to smile whenever he saw any students or colleagues walking around. Though, his assignments used to make our nights sleepless, we never used to miss his classes because he used to radiate a lot of positive energy and provide us with knowledge at the same time. It would be an understatement to say that he will be missed.
Tushar Shandhilya (M.S. student at CSE, IIT Kanpur) wrote
My interaction with Pramod sir was more of a guidance seeker, I did not take any course offered by him but listening from my batchmates how good of a teacher and guide he was i approached him for a project. There was absolutely no reason for him to consider me as his student, still he gave his time. We had an amazing discussion for 1.5 hours where he explained everything to me on his board and asked me to contribute. Although the project was clear i said him i was confused to take it or not, given the humble and considerate person he was he followed up every week. Unfortumately our project did not workout but everytime we accidently met while having coffee in the cafeteria he asked me about how is everything going on with a big smile and actually discussed if i had any issues.
His students use to call him "Guruji".
The few things i learned and realised from little discussions with sir which i will never forget are

The best teachers are the ones who doesn't give you the answer but makes you get your answers.
In work be passionate about it but not emotional since you won't be able to take rational decisions.
(Goodness, intelligence) , (Talent, Discipline) are rare combinations.

Kuldeep Kumar Solanki (M. Tech. student at CSE, IIT Kanpur) wrote
Respected late. Pramod Sir, I am in shock with the news of your sudden demise, can't bear the loss. You were one of the best faculty of I.I.T Kanpur. I still remember your way of talking, your humble nature, way of explaining things, and most importantly your smile which gave us positive vibes. The best thing I like about you was your way to reply questions so politely with smile on face. You left us too soon. So much learned from you. I don't know the reason, but I think you were in great trouble that's why you took this step. The only question I need to ask is WHY sir WHY, we love you a lot sir. I still remember our conversations in class, On the very first of class I asked question after the class, and you help me, cleared all my doubt. Always gave marks to those who did hard work. I just can't forget your one sentence: "Marks may come or go but knowledge remains, don't think of grades, focus on work and you will automatically get good grades."
Baldip Singh Bijlani (B. Tech. student at CSE, IIT Kanpur) wrote
Prof. Subramanyan was an extremely positive and considerate person. I deeply regret that I will not be able to learn from him anymore, for in the short time I knew him I learnt not only technical material, but also tremendous life lessons.
Arun KP (Ph.D. student at CSE, IIT Kanpur) wrote
I always see him with a calm and gentle smile on his face, now it breaks my heart to realise that I can not see that anymore. He is such a wonderful person, I wonder who will fill the void that he left behind as a faculty and more over a good humanbeing. I will miss him, like every other student of CSE IITK.
Prabhath Nampally (M. Tech. student at CSE, IIT Kanpur) wrote
He was a very talented person. It's sad that he won't be with us to guide the next generations. My deep condolences to his family.
Yashika Verma (Ph.D. student at CSE, IIT Kanpur) wrote
I had met Pramod sir personally, once and I remember feeling so lucky to have gotten that chance to talk to him in person. He was a brilliant teacher. I am going to cherish his simplicity and humbleness forever. May his soul rest in peace.
Prof. Jaynarayan T Tudu (faculty member at CSE, IIT Tirupati -- a close friend and also a labmate of Pramod at IISc) wrote
We were very good friends during IISc days, worked together, explored together, shared many good thoughts together. I can't imagine such tragic decision could be taken by person like Pramod. He is the person who has helped and encouraged me during my down time at IISc. He is a jolly person, he mingles with every one of us like anyone. This incident is beyond my mind when I think of about his personality, he can't take this decision! He is receptive to ideas, never seen any behavior which could be attributed to ego or pride despite he being an extraordinary student and scholar. He and his wife both of them were doing great during IISc days, even after moving to US, both of them used to make sure whenever they come to IISc that we would meet. They also invited us to visit to their home at IITK to see and bless their son. They were doing great in family life as well, why this has happened? Many memories are so fresh that it brings joy and tears both now. Just on 3rd July, he replied me an email saying that He may not be able finish the review on time, and I told him that is fine. And again on 6th he asked me back is there any specific paper for which we want his input, and unfortunately I could not reply back to that email. And we got this sad news.
My dear Pramod, where ever you may have chosen to go, please live a most happy life. We will pray for your well being, You will live with us.
Dear Preeti and Parents, it is a very heavy time for all of us to be composed! Let's pray that we get strength to withstand and live in his memory.
Prasanth V (Texas Instruments -- a labmate of Pramod at IISc and also a close collaborator) wrote
I first met Pramod at IISc during my masters. I found in him a very jovial, helping and brilliant person. We went for several dinner outings together during that time. It was a couple of years later that I learned that Pramod is coming back to India and joining IITK. Along with that, I also learned that he has submitted a research proposal to SRC. Knowing Pramod and his deep grasp of the area, I didn't want to miss the opportunity. I wasn't an expert in the area. Pramod spend a lot of time over WebEx with me and my colleague to further our understanding on the topic. We had several interactions during the last two years. He had excellent vision about how security verification need to be performed and he was solving it one by one. Then we got this sad news. With him we lost a budding researcher who had a lot to offer. More lose will be for the family and especially the kid. May god give them enough strength to get over this.
Prof. Ashish Garg (faculty member at MSE, IIT Kanpur) wrote
He was courteous and soft spoken. I am at loss of words to see a young and brilliant person choosing to leave the world so early. Truly shocking indeed and a great loss, of course, to IIT Kanpur. May his soul rest in eternal peace!
Subodh Kumar (Senior Consultant at Software AG -- a classmate of Pramod at RVCE Bengaluru) wrote
Pramod was very friendly and had a likable personality. He was a brilliant student and soft spoken. Anyone could strike a conversation with him and he would treat you like you have known him for long. I last met him at Princeton when he was pursuing his PhD. Even though we didn't talk often after college days, he would come up in my conversation with other friends as a wonderful human being. It's shocking to know that he is no more with us. May his soul rest in peace.
Prof. Kuldeep S. Meel (faculty member at CS, National University of Singapore -- a collaborator of Pramod) wrote
I first met Pramod in 2014 summer at SAT/SMT Summer school; if I remember correctly, we spent a long time chatting over breakfast on one of the days. There were few things that made me instantly develop a deep appreciation for him: his affectionate smile, humbleness, curiosity, and of course, his technical brilliance.
After the SAT/SMT School, we began exchanging emails on applications of model counting and hardware security. He was the first one to recognise and then convince me of the real practical importance of projected model counting. This was his HOST paper that is now on path to be a seminal paper. And he suggested that we co-author a follow-up submission combining projected counting and logic encryption. But I just could not keep up with his technical brilliance and his work ethic; so I had to accept my limitations and be happy with the left overs. And what a left over it has been -- the problem of projected model counting. I have been working on it ever since.
Sometimes you meet the same people for tens of times at conferences and yet you struggle to develop genuine connection but with Pramod, it was different. Just like everyone else who came in contact with Pramod, it was his genuine warmth combined with technical brilliance, that all you needed was perhaps, just one meeting. And how can you ever forget his smile.
I met Pramod last time in Dec 2018 where he gave a brilliant day long tutorial at SAT/SMT School. We discussed possible joint projects, and promised to visit each other. Recently my collaborators and I had been reading his work. In fact on July 7, I talked about his work to one of my collaborators. I had planned to write to him sometimes soon but he left all of us too soon.
I will miss him dearly.
Prof. Debdeep Mukhopadhyay (faculty member at CSE, IIT Kharagpur) wrote
I remember Pramod when he visited IIT-KGP. He gave a brilliant presentation on his research, which had produced several fundamental works in a short period. When he joined IIT Kanpur I had several communications with him. What was most striking was his amiable and down-to-earth nature and comforting smile. We had hopes of working together in the field of hardware security when I met last time in ATS 2019, in Kolkata. Pramod was always supportive of beginners, helping in all possible ways when students from any part of the globe approached him. He was a great promise to India and world academics, nipped unfortunately too early. To quote William Shakespeare, "His life was gentle; and the elements so mixed in him, that Nature might stand up and say to all the world, THIS WAS A MAN!" Indeed this quote is so befitting for Pramod. RIP friend!
Prasad Subramanyan (Pramod's brother) wrote
My memories of my brother are long and varied. What has been a constant is that my brother has been a pre-dominant source of inspiration all of my life. He was my intellectual and moral guiding star. Although growing up we fought (as all brothers do), around the time I started my undergraduate studies, our relationship changed and I counted him akin to a best friend (in addition to being a brother and mentor). We would speak about all sorts of things, from popular TV shows, to the way corruption was structured in China v. India. I have countless memories of buying snacks and sitting together watching Friends, That 70s Show, Frasier... I remember being very very sad when he moved abroad to pursue his Ph.D. at Princeton - and I remember posting that it was the end of an era... I knew then, we would not be able to keep in touch as we had before. But I knew even then that my brother had changed me, all for the good.
My brother taught me that hard work was the single most important thing in life. He taught me how to be curious and to learn. Because of him, I truly believed that if you had the inclination, you could learn anything. He taught empathy and humility. He was truly a genius, and I was truly humbled to be in his presence and enjoy his love and knowledge. I remember writing on Facebook (he was not on Facebook, but I wanted to share the sentiment regardless) back in September, 2011 - that having a brother like Pramod Subramanyan was like being a front stand spectator to a Barcelona game that it was "just super awesome". That sentiment remains as true today as it was back then.
The last few days have been some of the hardest days of my life. This person, one of my best friends, my mentor - has moved on and I had to perform the final rites needed to help him move on from this world. I have tried to come to terms with the what, the why. But after thinking about it long and hard, I have realised that I don't want to think about all that. I think the ever-pragmatic Pramod anna would have wanted this said of him, that he was a kind, humble, intelligent and helpful person. I want him to be remembered for all the good he has done for the world - and for us to honour his life by following in his positives. To contribute, to share and to be curious.
I would like to thank everyone here who has written really kind words about him. Please also accept my condolences to you for the grief that you are facing as well.
Anonymous (an MTech student at CSE, IIT Kanpur) wrote
Sir was a very dedicated and talented human being. I took a course under him. I have seen him put all the effort in teaching the course. He was one of the best teacher in IITK. I feel privileged to learn something from him. God give all the strength to his family and may his soul finds peace. RIP Sir.
Miriyala Jeevan Kumar (M. Tech. student at CSE, IIT Kanpur) wrote
Pramod sir was a great inspiration to all the students in CSE IITK, I did his security course and worked as TA under him in the last 2 semesters. He was a great teacher. He used to respond to every student's query and always made sure to deliver the best to his students. Every student used to love him and wanted to work with him. His smiling face, work ethics and caring nature he was a great teacher and a great mentor. I always be grateful for him. He will be missed forever.
Nikhil Kumar Singh (Ph.D. student at CSE, IIT Kanpur) wrote
I attended the last class of Pramod Sir's course this semester (5th March). It was the last class before Holi and he was telling us about the next assignment we had to do once we are back, which of course never happened due to COVID. I fortunately met him again on day of my MS thesis defence on 27th June as he was one of the examiners. I remember meeting him few times near CC Canteen where he would come to have tea. I remember Pramod Sir as a really helpful and nice person. May his soul rest in peace. We will miss you Sir.
Anonymous (an MTech student at CSE, IIT Kanpur) wrote
I will never forget Pramod sir, that smiling face of his is eternally embarked in my mind, I will always remember him with it. He was a fine person and an excellent teacher. He taught us many lessons to be true towards one work, to be humble, and polite. He always wanted his students to excel, motivating them to thrive for hard work, and even helped them academically. He will always be alive in the hearts of people who cared for him. I wish a great strength for his family.
Ankush Desai (Applied Scientist at Amazon Web Services -- a collaborator, friend, and labmate of Pramod at UC, Berkeley) wrote
I first met Pramod when he joined Berkeley as a post-doc. He used to sit next to my desk at 545S in Cory Hall, Berkeley, and we have been collaborators, friends ever since.
He was a fantastic researcher with an eye for identifying relevant and practical problems. Once he set an eye on that problem, he would put all his energy into solving the problem the "right way", no shortcuts. Several times, I would give up on those problems, and out of the blue, I would get a ping that he figured out a way to make progress on it. His publications, citations, and awards are a testament to his caliber as a scientist. I can keep going on about Pramod as a brilliant person, but more than a scientist, I will miss Pramod as a friend and close-collaborator.
If you ask anyone who has ever met Pramod, what they will remember about Pramod, I am sure they will all say "Pramod's smile". He was the most generous and selfless person I have met during my time at Berkeley. He would always go out of his way to help his fellow researchers.
He helped me a lot during my low-days during graduate school, listening to my problems and stress. I will always miss him as a friend.
We used to meet on Saturdays to discuss research problems, and I already miss this ritual of ours, his soft voice, humble smile, pure heart, ..... He has touched my life forever, and I am thankful to him.
Pramod, I will miss you. I am sure you will be happy, smiling, and winning hearts and awards wherever you are ...
I wish his wife, Preeti, son Avyukt, and his family all the strength to get through these tough times.
Prof. Srinivas Devadas (faculty member at EECS, MIT -- a collaborator of Pramod at UC Berkeley) wrote
After 28 years at MIT, I finally managed to take a sabbatical at Berkeley (my alma mater) during the period from August 2016 to January 2017. I remember telling people, "I want to go back to Berkeley and pretend to be a graduate student again, and have a great research idea". I must say that that did not happen. But I was lucky enough to be hosted by Sanjit Seshia and work with his student Rohit Sinha during the Fall, and then work with Pramod who arrived at Berkeley a month before I left.
The research project we were working on went into overdrive as soon as Pramod joined it. This should not be surprising to anyone who has worked with Pramod. I left Berkeley, the meetings continued virtually, with Pramod being the primary driver. Pramod and Rohit did most of the work for a paper that ended up getting a best paper award in the Computer and Communication Security (CCS) conference (November 2017) with Pramod as deserving first author. In my mind, my Berkeley sabbatical was "successful", though in a different way than I had imagined, thanks to Pramod, Rohit and Sanjit.
The Computer Science research community has lost a star, and the world has lost a great human being. I don't have anything other than cliched words to condole Pramod's near and dear. Please accept my heartfelt and deepest condolences for your loss. If there is anything that I can help with, now or in the future, please do not hesitate to ask.
Deepak Sirone J (Ph.D. Student at the Univ. Wisconsin-Madison -- advised by Pramod during the M.Tech. program at CSE, IIT Kanpur) wrote
The first time I heard about Pramod sir was on 9th May 2018, when Sandeep sir had sent a mail welcoming him to the department. I mailed him on the 14th after mustering enough courage to do so to which he replied at 4 am the following day. We met that day in his room in the KD building. I am still in awe of the clarity of his words regarding his work as well as the kindness with which he made me feel at home. In the weeks that followed, he introduced me to formal verification and how it can be applied to real systems. The meetings with him were always a delight, he would push me to imagine some non-trivial scenario where some property of the system in question would not hold. Occasionally we would end up laughing mindlessly at a joke or two, he laughs with his eyes half closed, grinning broadly.
During the winter semester, I was the TA for his course Design of Verifiably Secure Systems. I still remember the class when he taught the DPLL algorithm for SAT solving and its improved variant CDCL. If my memory serves, he mentioned that CDCL was discovered by some young researchers, was much faster than DPLL for real world SAT instances and that it was discovered nearly 30 years after DPLL was published. At that moment, he looked at all of us in the class with a loving gaze and said that "everyone of you is capable of doing great research". Such was the belief he had in each of his students.
He loved to code. His projects included architectural simulators, compilers, verilog designs, and formal verification tools. His work ethic was something I had never seen and one which I will aspire to emulate for the rest of my life.
As the semester progressed, we wrote a paper on breaking logic encryption which got accepted in DATE 2019. I still remember his face when our code worked perfectly, decrypting the locked circuit. It was one of sheer joy and excitement, beaming, like we had just beaten a hard puzzle together. All I could feel at that point was the biting fear that there was something wrong in what I did and that I would see that expression fade away, letting him down. His generosity in letting me work in the project was one that I will never forget. He also accompanied me to Italy in March 2019, where we presented our work.
As the Ph.D application season began, he would have gone through atleast five revisions of my statement of purpose. He would always make time to read my statement and suggest changes. He also gave me tips on different aspects of the application process and how to adapt while doing a Ph.D. abroad. His main bit of advice for me was to exercise regularly and to show up at the lab everyday.
If I remember correctly, around November 2018 Pramod sir shifted to his new office in RM building. His office was right beside Sandeep sir's office and we could hear Sandeep sir shout occasionally over the phone whenever he was in office. In case we wanted to meet Sandeep sir, we would keep quiet and listen before proceeding to knock on his door :).
Some other memories include me being a TA for Computer Systems Security, eating pizza while grading in a conference room with Pramod sir and his other TAs. He had also done a major revamp of the course format with programming assignments that emphasized on building secure systems rather than entirely relying on Capture the Flag (CTF) style assignments.
Ever since I met Pramod sir, he became a permanent part of my life. After graduating from IITK, I would spend atleast some time everyday thinking about him and the truly wonderful time I had on campus. It propels me through bad times, giving me hope and a great deal of positive energy. But right now, even these memories give me pain as the main character is not present anymore. It is a new world for me, one which I am still struggling to adapt to.
We will celebrate your life for as long as we live, Pramod sir. I used to have this thought in the back of my head that I would have you for company if I returned to IITK someday. It is so unfair that you had to go so soon. May you be at peace. I also pray for your wife, Dr. Preeti Malakar and baby Avyukt.
Puneet Acharya (R&D Engineer at Broadcom -- a classmate of Pramod at RVCE Bengaluru) wrote
I have known him since 2002. He was enthusiastic about almost everything we did. He had this charisma in him. The most memorable moments would be the trip to KREC Suratkal, to play AgeOfEmpires. Though we lost badly, it was a memorable trip. Only Pramod was the one in our team who could match any of the KREC guys. His interests were coding, doing this and that on computer (non coding). He liked Barcelona FC at that time. (wonder if it still was). Football and AOE will never be the same again.
Markus Rabe (Google Research -- a colleague of Pramod during their postdoc at UC Berkeley) wrote
Pramod was one of the kindest persons I've met. During the time we shared as postdocs at UC Berkeley, I got to know him as a brilliant researcher and a humble colleague. I enjoyed each and every interaction I had with him in our shared office, our lunch breaks, and our research meetings. I will miss Pramod dearly.
Suvasree Biswas (M.S. student at CSE, IIT Kanpur) wrote
The most striking accolade to Pramod Sir would be his composure, humility and sensitivity. His dedication, determination and diligence - will continue speaking for themselves. Makes one helplessly wonder- why the word "good-bye" has the word "good" in it, cause everything about it seems to be anything but good. Pramod Sir, you will continue inspiring legions of souls for time to come.
Shivendra Kushwah (M.S. student at EECS, UC Berkeley -- a collaborator and friend of Pramod) wrote
For me personally, Pramod had done so much for me. He was an exceptionally nice person and one of the kindest human beings I have ever known. The reason I joined my current research group at UC Berkeley is because Pramod agreed to be my research mentor back in my undergrad sophomore year while he was a post doc here. He taught me a lot and provided me constant mentorship and support. More than anything, he was very humble, down to earth, and understanding while being one of the smartest people I have ever interacted with. Whenever I got stuck, he would sit with me and debug and teach me while he could have been doing a number of other things. One time, even though he was in a different timezone than me, he had me screenshare my code on Skype just so he could help me debug line by line. This really just speaks to the kind of human being he was. Always kind and always caring.
He is the reason I got interested in research. When I applied for the Masters program here at Berkeley, he endorsed me and wrote me a letter of recommendation. During this past year for my Masters, he significantly helped shape my project and provided enormous amounts of love, support, and everything I needed to be able to graduate. I have no doubt that I would not be where I am today without him.
My thoughts go out to his family, and words cannot do him justice.
Prof. Sanjit Seshia (faculty member at EECS, UC Berkeley -- Pramod's postdoctoral advisor and a close colleague and collaborator) wrote
The experience of knowing and working with Pramod Subramanyan will always be one of the most cherished memories of my life. For me, Pramod was always a fountain of positivity. Every interaction with him was a pleasure, bringing new insights, ideas, and results. He was a brilliant researcher who brought a strong work ethic, a deep thinker who was extremely humble, a great mentor who was incredibly generous, and a wonderful human being who was always thoughtful, calm and composed. He was the perfect researcher, professor, and colleague in every way.
I first came to know Pramod during his days as a Ph.D. student in Prof. Sharad Malik's group at Princeton. Sharad and I had a joint project around 2012-14, and through that project I had a chance to interact with Pramod and co-author a few papers with him. He co-led the student effort on this project and played a crucial role in obtaining some very impressive results on reverse engineering high-level designs from bit-level netlists. Pramod's Ph.D. thesis was also a landmark contribution, showing how techniques based on Boolean satisfiability (SAT) and oracle-guided inductive synthesis could be used to extract high-level models, so-called instruction level abstractions, from circuit designs. Pramod's Ph.D. work deservedly received multiple honors, including the ACM SIGDA Outstanding Dissertation Award.
In 2016, I was delighted to welcome Pramod into my group at UC Berkeley as a postdoctoral researcher. At the time, we were working on the formal specification and verification of trusted enclave platforms, a problem spanning both hardware and software verification. We were just starting a new project with Prof. Srinivas Devadas, who was on sabbatical at Berkeley. Pramod, working with my student Rohit Sinha, quickly took a leadership role on this project. This collaboration resulted in an impressive research result, a formal specification for trusted enclave platforms with supporting formal verification published at the ACM Conference on Computer and Communications Security (CCS), which also won a Best Paper Award. What's remarkable is that this was not the only major contribution Pramod made during his postdoctoral tenure. He was also a co-leader of an effort in developing a new formal modeling and verification toolkit, named UCLID5, that integrates ideas from program synthesis and inductive learning with traditional deductive methods. In just over a year, Pramod graduated to being a full-fledged colleague, co-leading an effort that continues to be one of my major research thrusts.
In mid-2018, Pramod and his wife Preeti took up faculty positions at IIT Kanpur and moved back to India. We continued to work together closely, sharing a vision for UCLID5, and collaborating on several projects. In particular, we started working on the problem of verifying whether a program running on a particular platform was susceptible to side-channel attacks. Once again, Pramod brought his clear thinking and careful analysis to bear on this problem, helping define a new "secure speculation" property that formalized the absence of side-channel attacks. We made several improvements to and releases of UCLID5. We continued to work on these topics and others, such as the design of a new programming language for secure distributed computing, until his untimely demise.
Losing Pramod has been devastating. He left us too early -- he was only 35, he had a successful career and so much more ahead of him. I have lost a close colleague, the Computer Science community has lost a star, and the world has lost a gem of a person. My heartfelt condolences to his family and my prayers that they have the strength to bear this immeasurable loss. We will miss his brilliance and positivity. I will always treasure my memories of Pramod, and strive to honor his work and life in every way possible.
Prof. Sharad Malik (faculty member at EE, Princeton University -- Pramod's doctoral advisor) wrote
I had the privilege of serving as Pramod's PhD advisor. He was brilliant, optimistic, collaborative, generous – always calm, always smiling and always there to help others. There wasn't a single person in the group or his external collaborators who had anything but the most pleasant interactions with him. He had tremendous intellectual curiosity to explore new research questions and directions, and was absolutely fearless in taking the leap to learn new topics and experimental methods. His work was of the highest caliber – winning several awards – his PhD thesis won the Bede Liu Best Dissertation Award in the Department of Electrical Engineering at Princeton in 2017, and the ACM SIGDA Outstanding Dissertation Award in Electronic Design Automation in 2018. His paper on Logic Encryption won the Best Student Paper Award at the HOST Conference in 2015 and already has over 300 citations. This paper started a whole sub-area in SAT based attacks for Logic Encryption. His paper on Instruction-Level Abstractions will be awarded the ACM TODAES Best Paper Award at the DAC 2020 conference next week. He left us too early – he had so much to contribute to the community, his family and friends. His passing leaves a hole in our lives – we miss him dearly.
Chavhan Sujeet Yashavant (Ph.D. student at CSE, IIT Kanpur) wrote
I have done Pramod Sir's course Designing Verifiable Secure Systems. He was one of the rare people who was a great teacher, great thinker, brilliant, humble, kind, caring. It's a significant loss to our nation, his students, colleagues, friends, and family.
I remember one incident with him. I went to him for asking a doubt, but he was busy with some other work. He asked me to come after half an hour. He arrived at my working place in the department and explained the assignment for half an hour (this happened for every assignment). I still believe that it won't be possible to get an A grade in that course if he didn't help me this much.
I still remember his smile. He used to smile no matter what the situation is. He will always be missed. I still can't believe that he is not with us. May his soul rest in peace.
Bidya Sarkar (M.Tech. student at CSE, IIT Kanpur advised by Pramod) wrote
One of the most lucky things happed to me in IITK was Prof Pramod Subramanyan. I am blessed to work with him as master student for 1.5 years. Each single meeing was a inpiring one. He was not only a good thesis supervisor, also a nice, caring, understanding person. Till I remember the very first meet with him. It was 1st December,2018. I walked into his office randomly and talked to him for around 1.5 hours and that time my life in IITK got changed. I was stuggeling with new IITK culture and was in immense pressure but that meeting with him gave me confidence, and also gave me clarity about what I want to do in my academics for next academic journey in IITK. He was not only my MTech thesis supervisor, he helped in every phase of life and guided me in pressure management and time management.
When I was confused between persuing higher study or go with industry, he helped me to figure out my interest. IITK was my dream and Prof Pramod Subramanyan is a gift to me in IITK life. I donot have enough words to express my respect towards him. I will cherish all the moments with him in rest of my life.
Prof. Rajat Subhra Chakraborty (faculty member at CSE, IIT Kharagpur) wrote
I was familiar with Pramod's work since his groundbreaking paper on SAT-based attacks on Logic Locking in HOST 2015. I came to know him in person when he visited IIT Kharagpur about 3 years back. In a relatively short research career, Pramod has left behind a legacy that would be valued for years to come. Other than his technical acumen, Pramod always struck me to be a very pleasant and calm person, who could explain extremely complicated technical topics in the most lucid way. I last met him at a conference in Kolkata in December 2019, and as usual immensely enjoyed our hour-long interaction and his excellent talk. Words cannot describe the pain I felt when I learnt of his passing away, and still I am finding it hard to believe. His demise is an irreparable loss to Indian academia and the field of Hardware Security research. I hope the Almighty gives his family the strength to bear this loss. Rest in Peace, My Friend!
Priti Gautam (M.S. student at CSE, IIT Kanpur) wrote
I was shocked to see Pramod Sir's smiling photo in the news. Earlier that day, we received an email informing the early demise of Professor Pramod in IITK. When I saw the name, I thought maybe there is someone else by this exact name, it can't be Prof. Pramod in my department. Because in my memory, Prof Pramod was a person who always had a pleasant smile on his face. He had accomplished so much in his field at such a young age. Such a brilliant person. And he had a lovely family. What could go wrong with him? I couldn't believe it. It is heartbreaking to realize that he is not with us anymore.
I had a brief interaction with him in the last semester. I complimented him on his great work profile. He was so humble and modest, that I felt so easy to talk to him. I asked him so many questions and he patiently explained. He left an everlasting impression on me. He always responded with a smile, whenever I greeted him around the campus. I always heard good things about him. His students described him as a brilliant, dedicated teacher who helped his students in whatever way he could. So humble, polite, and always calm and composed. Every student wanted to work with him. He was and always will be an inspiration to all of us.
I hope Pramod sir has found peace. He'll always be alive in our hearts, We'll miss you, Sir. My prayers are with his family and I wish them the strength to cope with this great loss. Also, it's my humble request to everyone, please do not hesitate to reach out if you are facing any trouble in life. I know, sometimes it feels that the other person may not understand or help, but it still feels good to say out loud. We all go through the same life cycle and who knows, you may get a solution from the most unexpected person. Please care for your mental and physical well-being.
Vigneswaran R, Rajan A, Sachin Lodha, and Sitaram Chamarty (TCS Cybersecurity and Privacy Research Team) wrote
Like everyone else who knew Pramod, we all too were shocked to hear the sad news of his demise. We can only imagine what his family and friends, and other IIT-K faculty members, and students must be feeling over these past 6 days. We have been following the tributes to Pramod that are coming in on this page, and reading them makes one feel even sadder. In particular, the message from his brother, and others from his colleagues, describing him playing with his child, are truly heartbreaking.
We had a very rich interaction with him working on the joint research collaboration proposal. Throughout this journey, we found his initiative and attention to details really exemplary. He was such a down to earth person who was always keen to share his knowledge with us. It was really easy to communicate with him, be it over email or phone, with quick and to-the-point response when we needed something from him. We were so looking forward to closely working with him in the coming years. While the actual project work was certainly one key element of this collaboration, we were also hoping to get our younger colleagues exposed to and trained in doing some world-class research by closely working with Pramod. Indeed, his passing is a great loss to the Science of Computing, and especially to our Cybersecurity Research community, in India and globally.
​Our prayers for the departed soul. Our sincere condolences to Pramod's family and friends, and to the entire IIT-K community. May God give you all strength to bear this loss.
Sujit Kumar Muduli (Ph.D. student at CSE, IIT Kanpur advised by Pramod) wrote
It seems like yesterday when I first wrote to Pramod about my interest for a PhD. I came to IIT Kanpur for an interview for a PhD position. After the interview, Pramod and I went for lunch. We discussed for a few hours about our research interests and topics that we could explore in security and applications of formal methods. After that meeting, I was super interested to work with Pramod after hearing about his plans. Those were exactly the things that I also wanted to work on.
After a few days, I received an email from Pramod about my selection. I dropped other offers, packed my bag and came to IIT Kanpur to work with him. Pramod was very proactive and hardworking. He won't spare a single minute of his time and would micromanage everything. You could see him always committing code or doing a code review. He would quickly implement any paper he had just finished reading and also encouraged me to do so.
I have improved a lot because of him but nowhere near his level, he was a super coder. I remember when he was setting up a mid-semester lab examination for his course Designing Verifiably Secure Systems. When I visited his office one day before the exam, he was writing the programming tasks from scratch and finished it in a day, which would have taken me for a week to complete.
I had recently moved RM-511 lab close to Pramod's office, so we could meet frequently and I could trouble him anytime I wanted. We used to bump into each other in the corridor or staircase and will have a short discussion about our research work. Now when Pramod will not be there, his absence is going to haunt me in the RM building. I will also be missing our Friday morning meetings at 9 A.M. I always used to enter 5 minutes late to his office while catching my breath after riding my bike at full speed from Hall-8.
Pramod was an exceptionally good adviser and teacher. He had always taken care of any issue that I had faced and always was helpful. He gave me many career and life advice which I will continue to follow. It's because of Pramod's influence I am out of social media platforms. Pramod had many plans and visions which he would discuss sometimes with me and as his student I would try to carry forward some of these into reality. It still feels unbelievable to me that he is no more and I will not get to see him when I will be back on campus. Thank you Pramod for letting me work with you.
You have left a great impact on me and will always be in memories.
Jason Fung (Director of Academic Research Engagement, Intel Corporation -- past internship manager and research collaborator of Pramod) wrote
The security research and formal methods community will miss a brilliant scholar leaving early amid his short yet successful career ... It is truly my privilege to collaborate with Pramod Subramanyan since 2013. I am thankful for the opportunity to observe and learn from Pramod at a close distance, in fact, for 3 years in a row, while he spent his summers in my team. Beyond a remarkable track record of stellar accomplishments, I got to witness his persistence as a problem solver, his creativity as an innovator, and, perhaps the part that etched in my mind the most, his genuine personality as a colleague.
His brilliance and humility will continue to inspire us to pursue excellence while honoring every one we come across with trust and respect.
Pawan Kumar (Software Engineer at AMD -- a classmate and labmate of Pramod at IISc) wrote
It's very shocking to hear about this sad news. Pramod and I started our journey of research (MSc Engg.) at IISc at the same time, undertook almost the same courses for credit requirements, chose the same research advisor (Prof. Virendra Singh) and spent most of our time in the CDTL lab. I always remember and respect him for his laser sharp focus and he will continue to be my reference for a devoted researcher. He was very humble person and at the same time he was probably the epitome of an ideal student.
I still can't believe that he's no longer with us. We lost a great human being and an excellent researcher who could have done many more wonders in the academic fraternity. May his soul rest in peace.
If you would like to write a testimonial about Pramod, please send an email to purushot@cse.iitk.ac.in